This club is a great way to learn about your embroidery machine and become more comfortable operating it. You will explore new techniques, and gain experience in ways to use the many different materials and embroidery supplies that are now available.
We hope you'll join us and meet other like-minded people to share ideas and fun!
We will be meeting once a month- The third Friday of the month at 10:30. Our meetings are broken up into two parts. In the mornings, you will enjoy a lecture/demonstration on that month's project in which the instructor will go over the project and pass on tips and ideas. They will also present a short lesson on another topic, intended to help you learn more about your machines. During the Show and Tell portion we will celebrate your completed projects, so don't be shy! We love seeing what you all are working on and often get ideas and learn about things we may not have considered.
Afterwards, you may choose to remain and use the afternoon (up until 4:30) to work on that month's project. The instructor will be available to offer guidance and any answer questions.
Your sign up includes the meetings as described above as well as a USB Stick with the designs in various formats, and printable handouts with step-by-step instructions and illustrations. In addition, there are some bonus designs.
You will
receive that months design and instructions even if you cannot come that month.
January 20th Club Project:
Tile It!
Embroidery Machine Applique
Plus 3 Bonus Projects
Click here for Project 1 Supply List
February 17th Club Project:
A Sign of the Times
Home Sweet Home
Click here for supply list for Project 2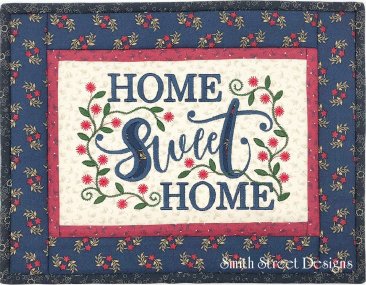 March 17th Club Project:
Quilty Fun!
Embroidery Machine Quilting
In 4 Sizes

Click here for Project 3 Supply List



April 21st Club Project:
A Curiously Clever Triangle Pouch
Embroider, Seam, & Flip
With Snaps! In 2 Sizes


Click here for Project 4 Supply List
May 19th Club Project:
Machine Needle Keeper with Clear Vinyl

Click here for Project 5 Supply List

June 16th Club Project:


Twas the Night Before Christmas
Easy Embroidery with Re-hooping

Click here for Club Project 6 Supply List